Restorative dentistry is one of the most common services we offer at Suwanee Center for Family Dentistry, with hundreds of procedures performed each year. The two most frequent reasons for restorative dentistry services are missing or damaged teeth, and, according to the American College of Prosthodontists, an estimated 178 million Americans are missing at least one tooth! Our team of licensed dentists not only manage the problems that make restorative care necessary, but we do it with a focus on both the renewed function of the teeth as well as the aesthetic of the smile.
This includes procedures that correct cosmetic or structural issues with the teeth. The work done for restorative care lays a strong foundation for a healthy mouth and often includes other dentistry services like cosmetic, surgical and even orthodontic care.
Two of the main goals of restorative dentistry include fixing problems so that they won't cause issues in the future and correcting damage to restore the look and function of your teeth.
Types of Dental Restoration
The procedures we do focus on the management of oral health problems. Whether it's the protection of your natural teeth or the fitting of a prosthetic to replace missing teeth, we offer a multitude of services to restore integrity and structure through both direct and indirect methods varying in complexity. There are times when the dentist may have to refer to a specialist that performs root canals. 
Preventive Measures and Corrective Methods
Dental care can be needed for a number of different reasons. Dental decay, cavities, gum disease, bone disease, trauma or tooth injury are all reasons why you might find yourself needing dental assistance. A missing tooth can cause bacteria to spread easier and it can also begin shifting healthy teeth in damaging ways. Damaged teeth can cause physical and psychological discomfort if not properly treated, negatively affecting everyday life moments like chewing and smiling. Once a tooth is missing, bone loss will continue to develop. The longer you wait to help the problem, the more likely it is to get worse. That's why our team is readily available for you to make an appointment and talk to a licensed dentist about your options.
The best dental care is preventive dental care. This means brushing twice a day, flossing, regular checkups every six months, and generally taking care of your teeth. When you do find yourself needing more care than routine maintenance, that's when restorative dentistry comes into play. Every procedure our team performs is not only focused on taking care of the problem, but preventing it from happening again in the future. We're fixing this issue with the expectation that it won't continue to be a concern in your life. There are a couple different ways we do this: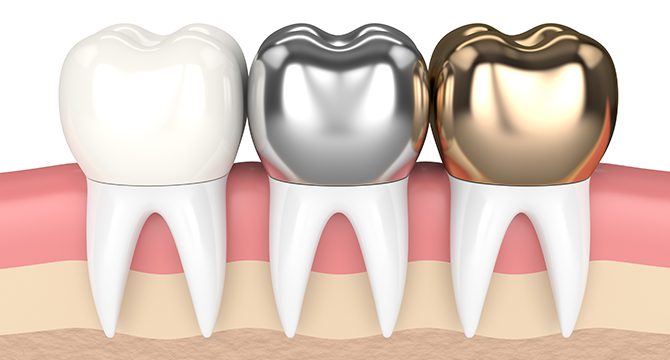 Dental Crowns
For cracked, chipped, or otherwise damaged teeth, dental crowns can be the perfect solution. The first step is treating the issue by filling cavities, doing root canals, or performing other dental work. The crown is then matched to the shape and color of your tooth, so it blends seamlessly with the natural tooth. After that, we fit the crown over your tooth, giving the look and protection of a new tooth. It's considered to be a cap over the damaged tooth, correcting function and shape.
Learn More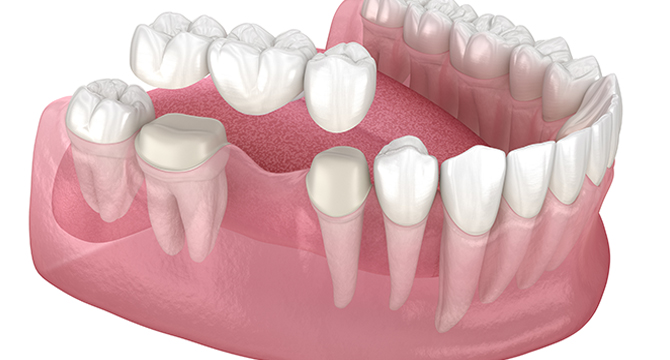 Bridges
A bridge is essentially a permanent partial denture. If you are missing several teeth and you don't want to worry about removable dentures, a bridge could be the best option. Bridges replace multiple teeth by closing the open gap with abutment teeth on the sides and a false tooth in the middle, secured by dental crowns. It's anchored to existing teeth on either side of the gap or by bridge-implant attachments.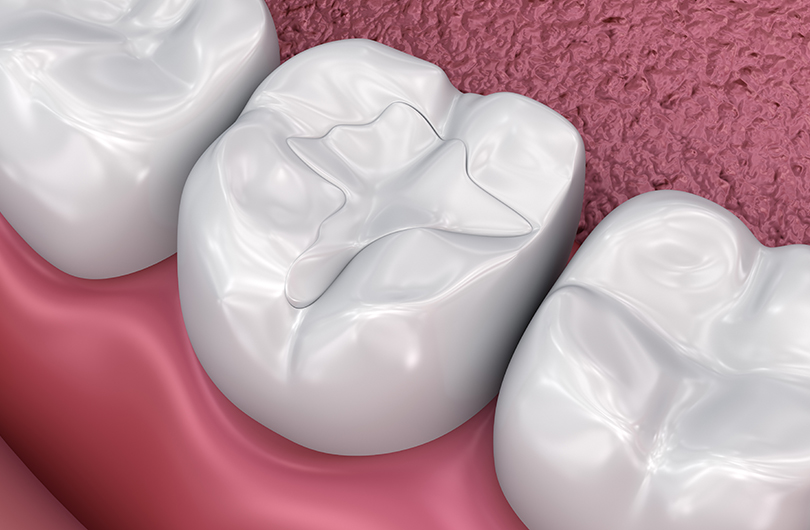 Composite Fillings
Even relatively simple procedures such as composite fillings can be considered a type of restorative dentistry. Fillings can repair cracked, broken or worn down teeth. Fillings also act as a replacement for the gap where decay was removed from a tooth. Technology today makes it possible for composite fillings to create a seamless, natural look with the rest of your teeth.
Learn More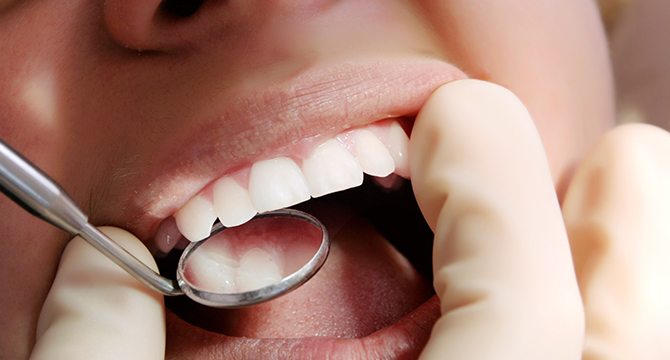 Endodontics
One of the main categories of restorative dentistry is endodontics. Endodontists study dental pulp and use their knowledge to diagnose and treat tooth pain. The most popular endodontic procedure is a root canal. Root canal therapy preserves the natural tooth and protects from future reinfection. However, this type of dentistry also includes other treatments that deal with the pulp of your teeth. The main goal of endodontics is to save your tooth and avoid an extraction.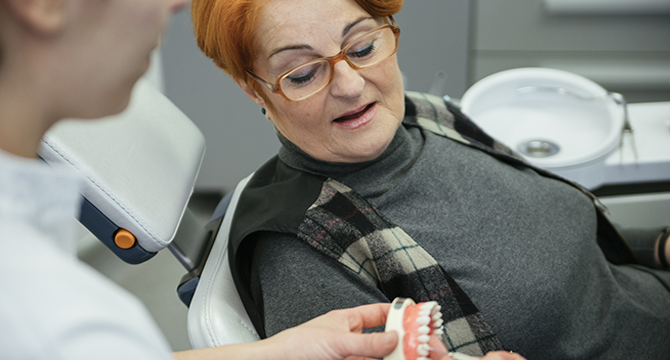 Prosthodontics
Another realm of restorative dentistry services are prosthetics in dentistry. Prosthodontists are dentists with extended knowledge and training in restorative dentistry, who focus on the repair or replacement of natural teeth. It can include crowns, implants, partial dentures, bridges, complete dentures and more. We will work with you to figure out which type of prosthetics are right for your situation.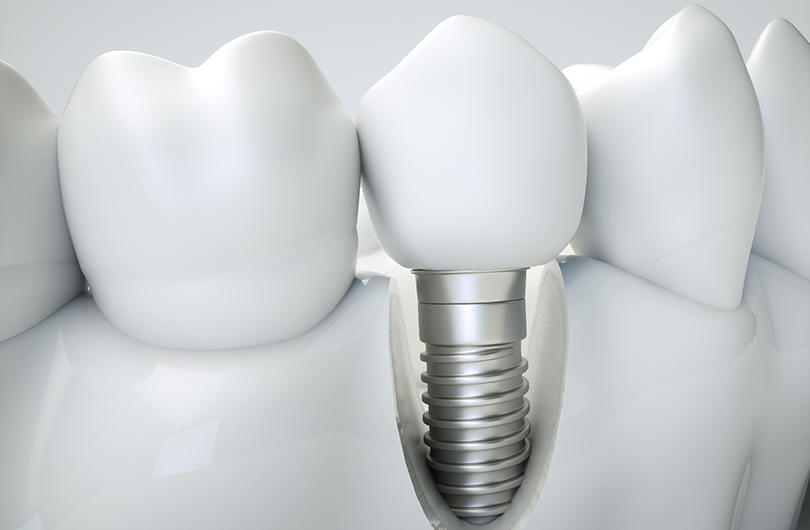 Dental Implants
Dental implants resemble natural teeth in look, feel and function, making them an excellent solution for anyone missing a tooth. They're a long-lasting corrective option. Your dentist will place a titanium post into the jawbone to simulate a tooth root, allowing bone to grow around it and create a stable structure. The next step will include personalizing the replacement tooth to your mouth, matching shape, color and size for a cosmetic look that is indistinguishable from your real teeth.
Learn More
We Look Forward To Getting To Know You And Your Family!
We offer a range of dental treatments for our patients. If you're in need of comprehensive and affordable dental care in the Suwanee, Sugar Hill or Buford areas, please don't hesitate to make an appointment today. Our team is ready to answer any questions you may have about insurance coverage, cost, appointments or treatments.