Cosmetic Dental Veneers in Suwanee
Dental veneers are thin shells of durable, tooth shaped porcelain that are custom made in a dental laboratory to meet your color, shape and size preferences. Your cosmetic dentist will bond the veneers to the front surface of the teeth to create a more uniform, white and even smile. Veneers can completely reshape your teeth and smile! They are often used as alternatives to other treatments, such as crowns, and are one of the most popular cosmetic dentistry services we offer at Suwanee Family Dentistry.
As with most dental restoration treatments, veneers are not permanent and may someday need replacement. However, they do last longer than other treatments and can provide you with a bright, even smile for many years to come. Because of the long-term results, stain-resistant material, and natural-looking appearance of porcelain veneers, we've seen more and more patients opt for this treatment to achieve their desired smile.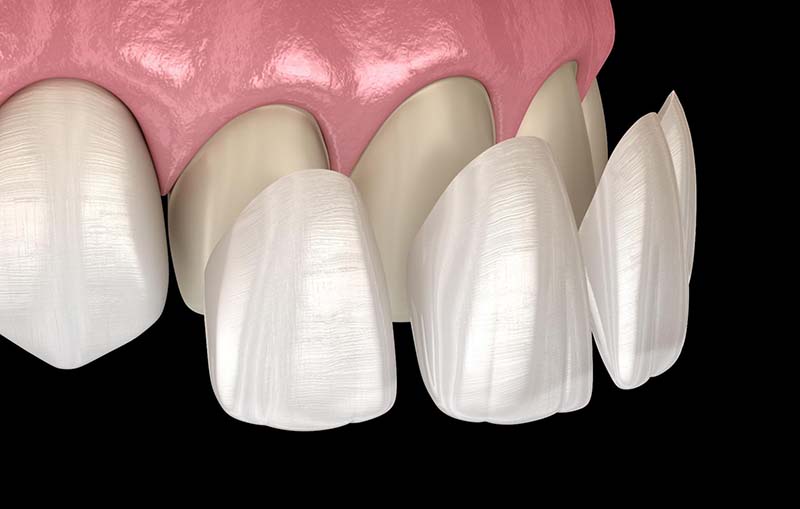 Reasons and Considerations for Veneers
Porcelain veneers can be used to transform and treat many dental problems including:
Crooked or misshapen teeth
Discolored teeth
Unevenly sized teeth
Unwanted space between teeth
Chipped or worn teeth
The veneers we use are also semi-translucent, which means your original teeth matter when deciding on a shade. Our dental team chooses the best color of white for you by considering:
Age
Color of natural teeth
Skin tone
Gender
Shape of your smile and face
Process of Getting Veneers
Veneers usually involve a few visits to complete the process, with little to no anesthesia required during the procedure itself. During the first visit, your dentist will want to discuss your cosmetic concerns to make sure porcelain veneers are the right treatment option to meet your needs. Your dentist will take X-rays, photos and impressions of the teeth that the veneers will adhere to. These impressions are sent to a dental laboratory where the veneers will be crafted by scanning the impressions to create a model. The photos of your teeth will be used to correct the size, shape and color of the model in order to fit your needs and to match your other teeth. Veneers are custom-made for your mouth, and we can create them for a single tooth or multiple teeth. After the veneers are made, your teeth are prepared by your dentist by lightly buffing and shaping the surface of your tooth in order to have a smooth surface for the veneer to bond. During this part of the procedure, an anesthetic is sometimes given if multiple layers of the enamel have to be sanded off. The veneers are then placed on the tooth or teeth by placing a bonding agent on the surface of the enamel in order to hold the tooth in place. A light beam is placed on the tooth to harden and set the bond, securing your veneer in place.
Schedule Your Cosmetic Appointment in Suwanee Today!
If you think dental veneers might be the right choice to meet your smile goals, give Suwanee Family Dentistry a call today to schedule your first appointment! Talk to our experienced dental team about your cosmetic goals and we'll decide together if veneers are the right treatment to meet your unique dental needs.